International
USAFL Umpires Association International Page
Welcome to the UA's International page.  We are very fortunate to have partnerships with umpire associations across the globe.  This provides us with opportunities to learn and share our knowledge in the sport we love.  Every year, we have international umpire opportunities in Europe, South America and Australia so if you are traveling, this is a great way to meet new people and learn about Aussie Rules across the globe.
Please check back here and the UA's social media pages to get the latest updates and reach out to Laurie Rupe at  laurie_rupe@hotmail.com with any questions.
Laurie Rupe serves as the USAFLUA International Liaison. She has made numerous international trips in support of Umpiring, the USAFLUA, and Australian Football. She has traveled all over Australia, New Zealand, Europe, and South America to share the game that she loves. Here are her reports.
TRIP REPORT – Bogota, Colombia – May 2019
Our USAFL Umpires Association International Liaison Laurie Rupe made a trip in May, 2019 to Bogota, Colombia and below is our first look at her fun, exciting, informative, and ground breaking trip!…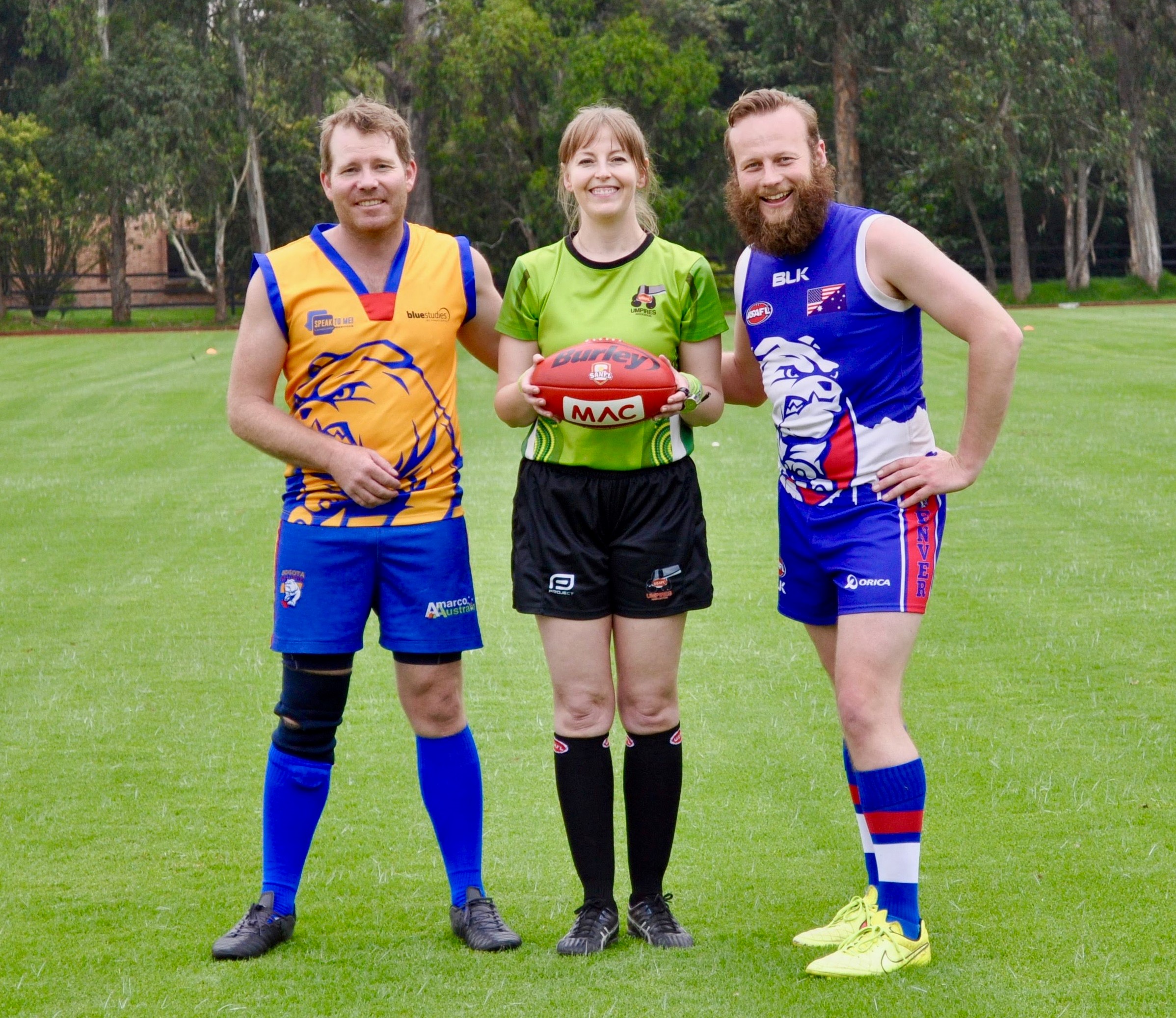 I have been on the USAFLUA board for the past 3 years and as a part of my duties, I serve as International Liaison which gives me the excuse to travel across the globe to promote umpiring and the USAFLUA.
In May, the Bogota Bulldogs hosted players from across the USA in men's and women's game. The women's game served as the first international Aussie Rules game played in South America and as a part of that historic event, I had the unique opportunity of participating on a panel hosted by the Australian Ambassador to Colombia about how to increase women's participating in sports and how to provide equal opportunities to do so.
There were representatives from the women's councils in Bogota and the Bogota Bulldogs captain. The audience included players, potential sponsors and city officials all to encourage the growth of Australian Rules Football and women's sports opportunity in Bogota. We talked about stereotypes, barriers to change, providing a safe environment for women to participate and self confidence. At the end, we got to see the unveiling of the new jumpers for the Bogota Bulldogs women's team, proudly modeled by members of the team. The whole experience of the day was wonderful and it was inspiring to be on a panel with some exceptional women (one of who is Makenzie Carr who is President of the Sacramento Suns) who are really passionate about this subject.
The next day were the 2 games, with the men's game acting as a curtain raiser for the first ever international women's Aussie rules football game in South America! I definitely felt the altitude difference since Bogota is a little more than 8200 ft above sea level.
Laurie Rupe
USAFLUA Level II Field Umpire
USAFL Umpires Association Board Member &
International Liaison
Bogota, Colombia – May 2019