United States Australian Football League Umpires Association – USAFLUA
Travel Recommendation To International Umpires With Plans to Attend The 2020 USAFL Nationals
An important message from Laurie Rupe – USAFLUA International Liaison
June 15, 2020
Hello Fellow Aussie Rules Umpires,
I hope this email finds you in good health and that your family and loved ones are staying healthy and safe.  I wanted to reach out to provide an update on 2020 USAFL Nationals.  First of all, thank you all for showing interest in making the trip to come over and help us with our National tournament, we couldn't do it without help from you!  
At this time, the USAFL has not made a decision about whether we will have our National tournament yet and we don't have an exact date for when that decision will be made.  Given that we don't have an official decision date yet and we have less than 4 months until our tournament date, the USAFL Umpires' Association recommends that you don't book any travel for this year's tournament and that you start saving for 2021!  If you have already booked your trip and feel comfortable coming over, we are still happy to host you and will put you to work.
This is such a crazy year for sports, traveling and our normal routines and I wish I was sending this email under different circumstances but if you have any questions, please don't hesitate to reach out.
Take care!
Laurie
USAFL Provides "Return to Footy" Guidance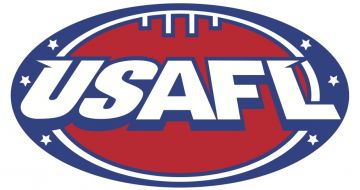 June 5, 2020
Dear USAFL Members,
Please review the "Return to Footy" document for our latest guidelines to a safe return to Footy activities.
As stated in the document, the information provided here is a guide only. It is intended to be a suggested framework for engaging in football activity while meeting local recommendations. Where local information, guidelines, and ordinances differ from anything in the provided guidelines, please follow the guidance of your local health authority. If local health authority guidance differs significantly from the CDC or WHO guidelines, we recommend following the most restrictive guidelines available to maximize safety of players and community.
In addition to these safety guidelines, the USAFL will be forming a Safety Task Force focused on continuously evaluating and updating guidelines for Clubs as they return to football. To do this effectively, the USAFL is looking for volunteers to participate in the Task Force, particularly individuals who have public health and policy experience. If you are willing to participate and have expertise that would be beneficial to the Task Force, please send a brief introduction to safety-taskforce@usafl.com.
To streamline the communication and to provide the most up to date information, we are asking that each Club nominates a Safety officer. This person's role is critical for implementation of the Safety guidelines and regular communication with the USAFL Safety Task Force. The details are included in the document under the Club Safety Officer section.  
Please contact your Regional VP with any questions at all or concerns.
Thank you and best of luck as you consider a possible return to football for your club.
Sincerely,
Seb Aguiari
United States Australian Football League  –  President

USAFL Webinar Series Begins on May 14th 
Special Guest AFL Umpire "Razor" Ray Chamberlain
As we navigate these challenging times, the USAFL is offering a series of free webinars led by both USAFL and AFL Coaches, Umpires and football experts. See below for the schedule and links to register and check back often for updates on future webinars.
An Hour With Ray Chamberlain
Friend of the USAFL and 319 AFL game veteran, AFL Umpire, Ray Chamberlain will take us through some video footage and talk through some basic decisions in football and explain the reasoning why the decisions have been awarded. There will be an opportunity to ask Ray questions in relation to umpiring and football. The webinar is open to all USAFL players, coaches and umpires and will be a great opportunity for both those experienced and new to the game to learn from one of the AFL's best!
When: May 14, 2020 08:00 PM Central Time (US and Canada)
Topic: USAFL Webinar – Ray Chamberlain
For those who don't know, Ray operates a charitable foundation outside of football which raises funds and awareness for suicide prevention and support for Australia's frontline emergency workers. Ray will spend a short time talking about that.
Did you miss  last week's Q&A with AFL Umpire Ray Chamberlain? No worries! "An Hour (and 15 minutes) With Ray Chamberlain" is available in its entirety here:
2020 Season Update from the USAFL – 1MAY20
This is the letter sent to the USAFL Team Presidents, by Seb Aguiari, the USAFL President:
Dear Presidents,
Let me begin by saying thank you for your continued patience during this unprecedented time as the board continues to monitor the situation with COVID-19 and make adjustments to our 2020 season accordingly. Based on the current situation, for the safety and the health of our Members, the Umpire Association, and our partners, we have made the decision to cancel the USAFL Regional Tournaments for 2020.
We are still hoping that we will be able to play tournament footy within the coming months. Therefore, our current plan is for the USAFL to support and promote smaller local tournaments, once it is safe and permitted to do so, later in the summer and fall. The goal with this alternative plan is to limit the size of these tournaments and reduce the need for air travel as much as possible. Financial support will be granted through a host application process (based on the tournament grant concept). The aim will be to provide the opportunity for all clubs access to tournament football with financial support provided by the USAFL.
Regional VPs will work with clubs in their region to define suitable accessible locations for tournaments when it becomes safe to do so. These will be supported by USAFL through cost reimbursement and resources (such as umpires when possible) to assist host clubs. See USAFL Sub-Regional Tournaments 2020 document.
The situation remains very fluid. States and counties are following different guidelines and timelines. Due to the unique needs and circumstances for each locality, the USAFL is not in a position to set a universal return date for returning to football activities. However, we must ask you to continue to follow the advice, guidelines and policies set by your respective local authorities and to keep your communities' safety as a top priority. Any support from the league, including Certificates of Insurance and Tournament Grants, will be contingent on clubs' ability to provide evidence that football activities are permitted and within the local authorities safety guidelines.
We are still very much looking forward to Nationals 2020 in Ontario California. We are hopeful that we will be able to hold the tournament, which so many of us look forward to all year. October 2020 is just over five months away, and much can change in that time so it is critically important that we all remain in regular contact over the coming months. In the meantime, the USAFL continues to work to prepare for our best tournament to date and we will continue to share any updates as they become available.
As we look forward to the end of our hiatus, a reminder that club dues are designed to support the league administration, which includes insurance, payroll, IT support, bank and tax fees, and legal fees. Club dues are necessary to keep the league operating in 2020 and preparefor above indicated local USAFL supported tournaments and Nationals 2020. Thank you to any clubs who have submitted their 2020 dues. There is no set deadline at this time but we appreciate your support in submitting payment when and if you can. If your Club is facing financial uncertainties, please kindly reach your respective RVP's. Let us know how we can help.
Members' dues remain on hold at this time. The USAFL Board continues to monitor the situation and meet on a weekly basis to discuss any updates. We will continue to review alternatives and options as the schedule takes shape over the coming weeksand will share information on dues once a decision has been made.
We will also revise and communicate National Eligibility Points requirements at the appropriate time. Once we have a better grasp of what the 2020 Season Schedule will look like, we can effectively communicate NEPs requirements. Our goal is to allow returning players and new Americans as easy a path to Nationals as possible, while still keeping safety a top priority and any changes to NEPs will reflect that. If your Club has opportunities to play games, assuming local authorities permission and safety guidelines in place, please continue to enter games and scoresheets in LMS.
Our next official league-wide notice is scheduled for June 1st though RVPs will share updates regularly. At that time, we plan to have more clarity on the remainder of the 2020 season.In the meantime, please continue to communicate with and support one another and do not hesitate to contact your RVP with any questions or concerns. Thank you, again, for all of your openness and understanding during this time. We look forward to seeing each of you on the field again in the future and wish you safety during this time.
Very Sincerely,
Seb Aguiari
President, United States Australian Football League
The original post can be found at: https://usafl.com/files/attachments/USAFL%20Update%205-1-2020.pdf
The USAFL SubRegions document can be found at: https://usafl.com/files/attachments/USAFL%20Sub-Regional%20Tournaments%202020.pdf
2020 AFL International Cup to be postponed for 12 months
The AFL has decided the 2020 AFL International Cup will be postponed until July-August 2021 and will be played on the Sunshine Coast.

The AFL International Cup was scheduled to be played from July 25 to August 8 2020.

AFL General Manager Game Development Andrew Dillon said the uncertainty caused by COVID-19 had prompted the decision.

"This decision was not made lightly but our first priority is the health and wellbeing of players and their support staff," Mr Dillon said.

"We hoped to still hold the carnival in 2020 but with uncertainty with international travel to Australia and the expected spread of COVID-19 we wanted to give participants as much notice as possible to postpone travel arrangements.

"We hope all participants understand the decision and we look forward to welcoming all to the Sunshine Coast in 2021.

"We would also and thank our strategic partners in the Sunshine Coast Council and Tourism Events Queensland for their support at this time."

Dates for 2021 will be confirmed when the 2021 Toyota AFL Premiership Season fixture is released in late October.

The seventh AFL International Cup will include men's and women's teams from North America, Europe, Africa, Asia and the Pacific.

Teams solely composed of footballers who are nationals of the country they represent. No expatriates are eligible to play.
The original post can be viewed at: https://www.afl.com.au/international-cup
International Cup 2020 Scholarship Umpires Announced
January 13, 2020
The USAFL Umpire Association is pleased to announce the International Cup 2020 Scholarship Umpires: Ryan Minmier and Shawn Farber. They will be going to the Suncoast in Queensland, Australia to represent the USAFL and the USAFLUA in IC2020 from July 25 through the grand finals on August 8.
Ryan Minmier has been umpiring since 2016 and has worked diligently at his craft, achieving Field Level 2 accreditation at the 2019 USAFL Nationals. Minmier hails from New Orleans and currently lives in Houston, Texas. He played for Tulsa in 2015-17 and has played for Houston since 2018. He joined the USAFLUA Board as an At-Large member in October 2018 and has strengthened the Association as a member of several committees, including the Nationals Committee and the Uniform Committee that developed the current umpire uniform options.
"I am honored to be going to IC20 as a scholarship umpire. It is something that I have wanted to do since I first learned of the opportunity. It is going to be so exciting to take my whistle to Australia!"
Shawn Farber first umpired in 2016 and is currently working on his Field Level 2 accreditation.
Farber hails from Washington state and is currently in Oklahoma City. He played for Tulsa Buffaloes starting in 2015 but is now fully committed to umpiring. Shawn joined the USAFL UA Board as an At Large member in October 2017 and has also strengthened the Association as a member of several committees including, like Ryan, the Nationals Committee and the Uniform Committee that developed the current umpire uniform options.
"This is quite a surprise as I wasn't sure I was ready yet. I am stoked and am looking forward to showing the selection committee that their faith in me is warranted. Look out, Sun Coast!"
The USAFL is the pioneer in umpire scholarships, having sent umpires to all seven tournaments since it began in 2002. The scholarships support most of the expenses associated with going to Australia for the three-week tournament. The Scholarship Selection Committee, led by Head Coach, Jeff Persson, includes Goal Coach Toby Persson, and President Jon Mills. The selection criteria includes more than just on-field performance (of course that is a requirement!); it also looks at criteria like participation in Regional tournaments and Umpire Clinics, commitment to umpiring such as service off the field (both Ryan and Shawn both have served on the Board), recruitment of new umpires, coaching and growing junior umpires, and also committing more than three weeks to the trip down under (it is a long trip, so that commitment can't be overlooked).
Congratulations Ryan and Shawn and best wishes as they prepare for the 2020 USAFL season which now includes 'the experience of a lifetime' at IC2020!
If you wish to support Ryan, Shawn, and the team at the IC2020, you can send your tax-deductible donation via PayPal by clicking on the International Cup Donation Link at: https://www.paypal.com/cgi-bin/webscr?cmd=_s-xclick&hosted_button_id=UC4HMP7N57DRL&source=url
2020 USAFL Nationals – 10-11OCT20
The USAFL Executive Board has announced that the 2020 USAFL National Championships will be held Ontario, California during the weekend of October 10 and 11, 2020.
Silverlakes in Norco, CA, we be the location for the 2020 USAFL Nationals. Silverlakes a 130-acre complex, houses 24 soccer fields, a full-service restaurant, and a 10,000-person concert venue.
The USAFL National Championships is the largest Australian Football tournament in the world, with 4 men's divisions, 2 women's divisions, a juniors clinic, multiple development programs and over 1,000 athletes competing in over 75 games in one action packed weekend.
Time to renew your 2020 USAFLUA Membership dues
November 3, 2019
United States Australian Rules Football Umpires!
The USAFL Umpires Association (USAFLUA) is looking forward to another great year of Footy in 2020.
As was discussed at the USAFLUA Annual General Meeting, we had great success collecting our USAFLUA dues at the beginning of the year, so that we have an early idea about available funding for the USAFLUA activities throughout the year.
Please help us again by paying your dues now.
Our USAFLUA dues are now $25 US.
There are a few ways to pay your 2019 USAFLUA Dues:
Go to our website at USAFLUA.org and look for the "Buy Now" PayPal button on the right side while scrolling down past the header.
Log onto PayPal.com and send $25.00 to PayPal@USAFLUA.org.
Send a check for $25 directly to Sid Caesar, the USAFLUA Treasurer at –
Sid Caesar
USAFLUA Treasurer
3 Maryland Avenue
Rockville, MD 20850-2327
As the year goes on, the dues will go up. Don't wait. Get your dues paid today.
Thank you!
Play On!
Millsy
USAFLUA P

USAFLUA.org – The official site for Australian Rules Football Umpiring in the United States.
USAFL Umpires are invaluable volunteers who give their time to ensure that the league has professionally run games. Without the umpires, the games would not exist. It is important that these individuals become and remain accredited and that they are available for all USAFL games.
The USAFLUA is proud to be partners with these Umpire Associations