Hall of Fame
This page details the key historical events of the USAFL Umpire Association. This includes the Lifetime Membership Awards, Esprit de Corps Awards, International Cup Scholarship recipients, and other significant events.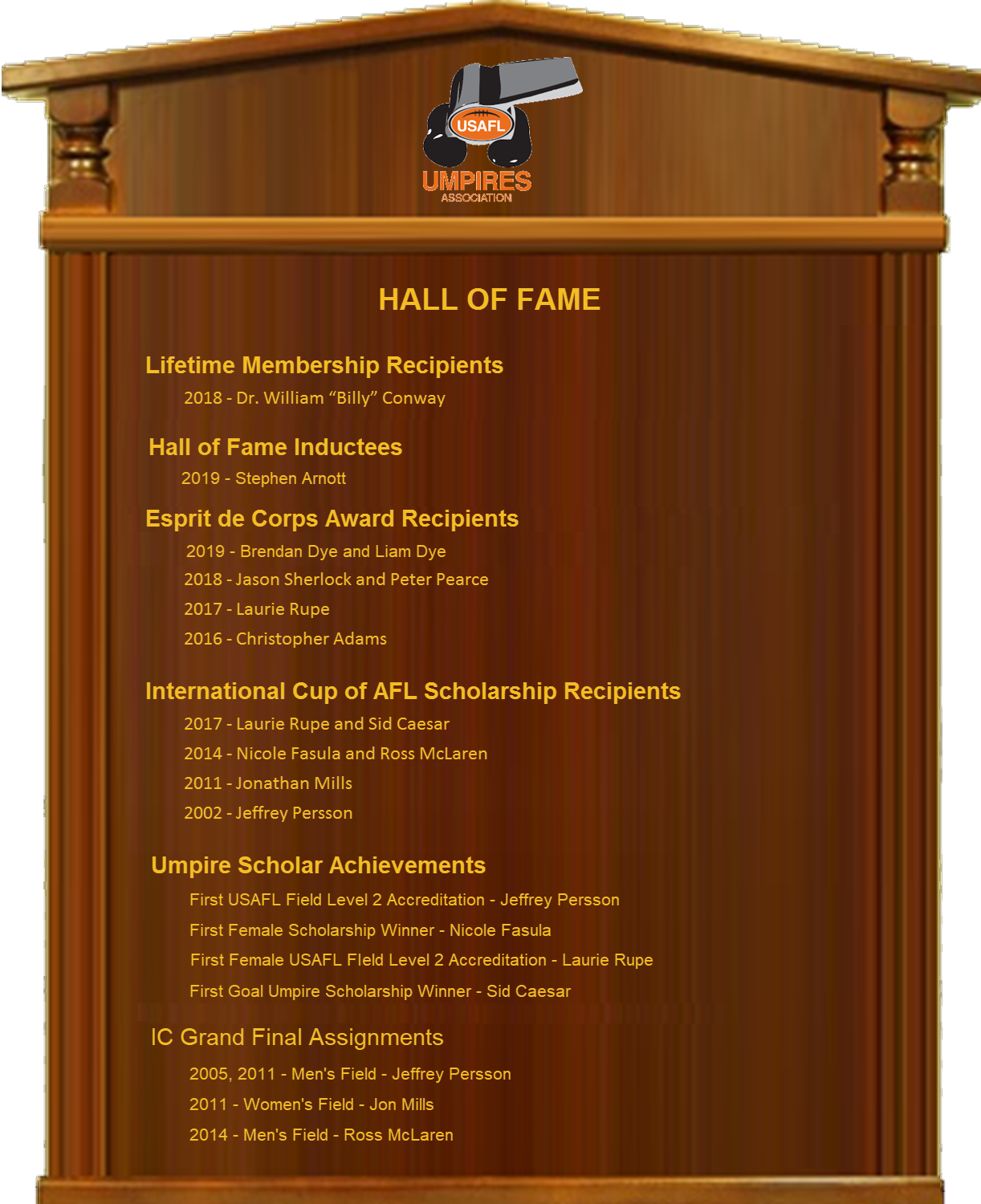 HALL OF FAME
Lifetime Membership Recipients
The Lifetime Membership of the USAFL UA is conferred upon an individual to recognize their outstanding service to umpiring in the USAFL, such service being above and beyond the routine, and for a significant tenure. The recipient typically has helped grow umpiring in multiple ways, from promoting new umpires to serving administratively, to coaching, and more over an extended time. Lifetime Membership memorializes the contributions of the awardee.
Esprit de Corps Award Recipients
The Esprit de Corp award is presented to an individual who has shown a true love of umpiring in the USAFL, more than just doing the games and attending the tournaments. These are individuals who not only raise their hand when asked to help, but seek out new opportunities, jump into the fray before asking what the commitment might be, and help to grow the umpiring community without being asked to do so. Such individuals show a joie de vive for being a USAFL Umpire.
International Cup of AFL Scholarship Recipients
History: The USAFL was actually ahead of the AFL when in 2002 it decided to send an umpire scholar to the inaugural International Cup of AFL. Now a tri-annual event, the USAFL continues to send umpires to the premier amateur AFL tournament.
Scholarship Program:
Work games at each round in the IC tournament
Coaching from the Australian umpire coaches
We will visit local Umpire clubs during their weekday training sessions and talk with them about umpiring in the US
We will meet with the AFL umpires at one of their training sessions, including a video review session and the chance to train on the field with them.
Qualifications: What we look for in our scholarship umpires:
Dedication to the umpire profession
Must be on the accreditation path to Level 2
Commitment to the trip: ability to take a full three weeks in Australia
Scholarships are not limited to only the field umpire discipline
Last Updated: October 2019